How to Make a DVD Slideshow with Music
Create a Lasting Memory
Today there're lots of opportunities for data creation, transmission and storage. The Internet and a memory stick come in handy when you want to email your photos to a friend, post them on Facebook or show them on an USB compatible TV. Yet, they are not absolutely reliable and won't work if you lose the Internet connection or misplace a USB stick.
Storing thousands of digital photos, DVDs hold data much better than portable hard drives or online file storages. There is a chance, however, that you will bore friends and relatives to death if you burn the full photo collection to a DVD and proudly present these dully-changing images. Why not create an amazing slideshow with special effects and music?
Wondering how to make a DVD slideshow with music and pictures? You have come to the right place. Get hold of the multifunctional DVD slideshow software and let's get down to business. Below you will find simple instructions on how to save your slideshow projects to DVD and showcase them like real movies.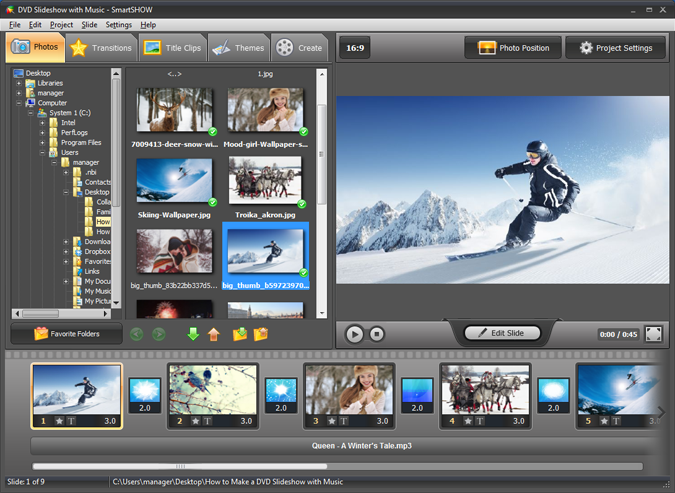 Burn a DVD in a Few Clicks
Smart Slideshow Maker is the best thing since sliced bread as it is easy to use and does not make you brush up endless manuals. All it takes are a few clicks to start the program and import the photos from your computer. Arrange them on the storyboard, add jaw-dropping transitions, apply mesmerizing themes and put a cherry on the top of your presentation – the music. Now it is high time to meet the final challenge. So, how to make a DVD slideshow with music?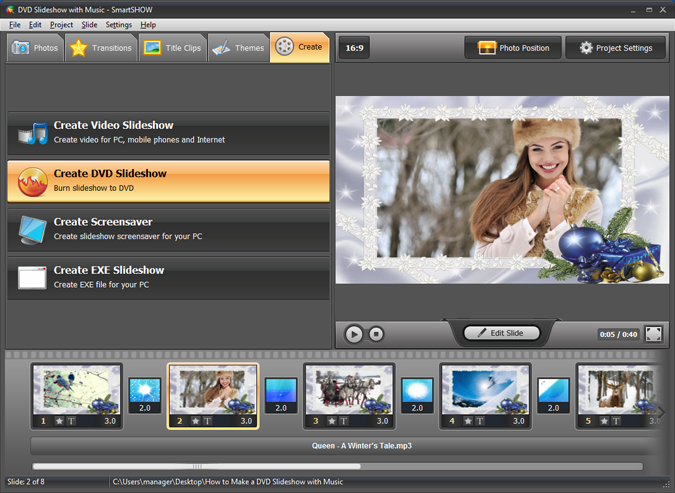 Create a Menu for Your DVD
After you've made sure that you photos are arranged in the right way, switch to the Create tab and click Create DVD Slideshow. There you will see a new screen where you select slideshows or video files to be burnt to the DVD. It's worth mentioning that you can choose several projects or videos at once. On the right, the panel is equipped with small icons, which are used to add or delete the chosen files. The line below indicates the disc space filled, this way you can always monitor the memory capacity of your DVD.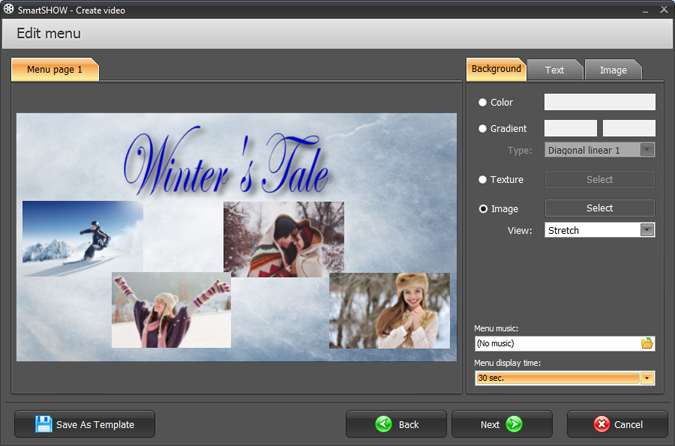 As a bonus, the program offers you an impressive range of gorgeous menu templates and vast options to customize them by adding preview photos, menu music, personal titles and descriptions. At the final step you will be able to choose the best video settings (type of video and its quality). After the final click your slideshow video is directly burnt to a DVD without any additional software. Now your marvelous DVD slideshow with music is finished and ready to inspire your friends and family.
Present and Impress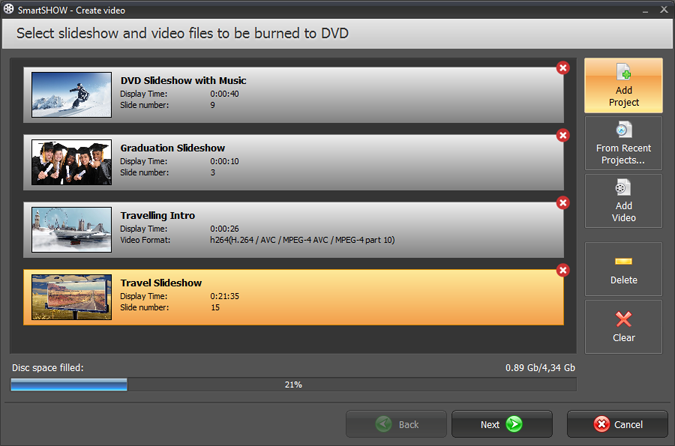 Being a far cry from other slideshow and DVD burning programs, Smart Show Maker combines features of both and creates a ready-made DVD slideshow video. You do not need to master any additional software, just burn a DVD and then play it on a TV set. What is more, you do not stuff your head with complicated information and fully enjoy the creative process. After learning how to make a DVD slideshow, you can easily create permanent and portable storage for your wedding or graduation slideshows and present them as a superb gift to your friends, classmates and relatives.
Try your hand at creating terrific DVD slideshows. Give flesh and blood to your nebulous ideas!