Graduation Slideshow Ideas
How to Make a Cool Show for the Big Day
Graduation is always an honor; it's a moment to realize that you've made a big achievement in your life. School is a wonderful time when you had a lot of fun, and tons of photos depicting those lovely moments are surely kept in your archives.

Why not create a gorgeous graduation slideshow with the best photos taken throughout the study? It won't be just a pack of images – add some bells and whistles to make it more of an event with SmartSHOW - a cool slideshow maker available here.
Looking for inspiration for your graduation slideshow? Don't know what songs will be a perfect soundtrack? Keep reading this post, learn the rules of a killer slideshow and find the video example below!
Share Your Special Moments
Think about your school or college days for a moment – what did you like the most? Interesting courses, subjects, your classmates, projects you were working on, sport activities – there must be something that has a special meaning to you. Look through your photo albums, scan your hard drives' folders, and try to create the slideshow plot. Another thing to consider is what is going to happen with your slideshow: will it be a gift to a schoolmate or a teacher, a presentation on the graduation ceremony, or maybe a slideshow for friends and family?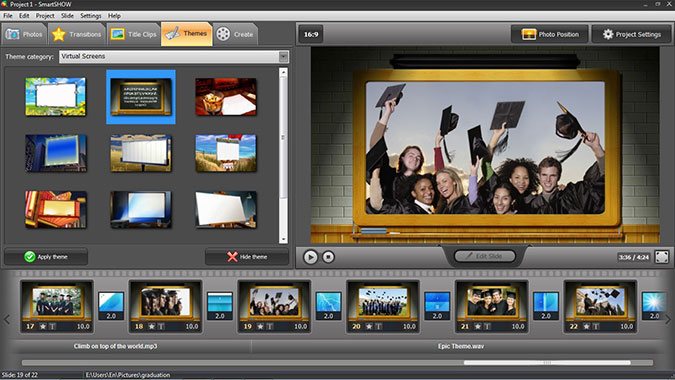 Chronology is the Key
There are different ways to organize your graduation slideshow, and the most popular one is to arrange the images in chronological order. The beginning is up to you, you can start with the year of birth, pre-school or 1st grade. Then, sort the photos by each year of school, or maybe by different activities or clubs you participated in. Ask your friends and classmates for some photos – you may find some good ones to include into your slideshow!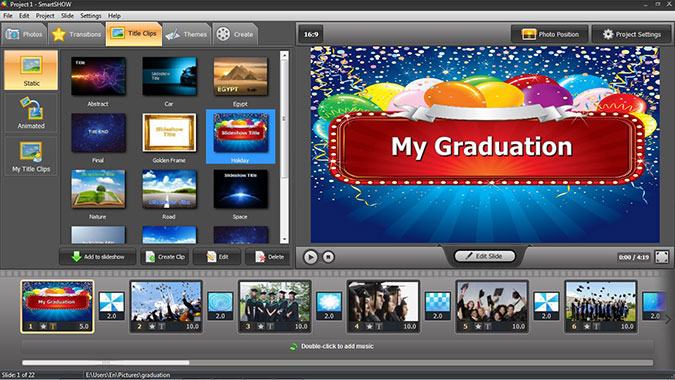 Graduation Slideshow Songs
It's no secret that music plays a major role in any slideshow. Think for a moment, for sure there are some special songs you enjoyed at school or tunes that all your classmates liked.
Try different kinds of music for certain sections of your graduation slideshow. For example, the sports or some intense activity section requires an upbeat track, something fast-paced and a bit of rock aggression works pretty well here. On the other hand, a comedic section aligns great with an ironic song that will evoke some good laughs at the graduation party.
Anyway, here's a short list of the most proven and suitable songs that fit into any graduation slideshow:
Carrie Underwood - "Whenever You Remember"


The Beach Boys - "Graduation Day"


Celine Dion - "These Are the Special Times"


Nickelback - "Photograph"


Foo Fighters - "Times Like These"


Sarah McLachlan - "I Will Remember You"


Green Day - "Good Riddance"
How to Create an Awesome Slideshow?
Now it's when SmartSHOW app comes in handy. It's straight-forward and easy-to-use yet it has lots of stuff to make your graduation slideshow shine. The smart wizard offers help: simply pick the photos and soundtracks and the rest is on the shoulders of SmartSHOW! This option is great for novice users or to make a slideshow in a blink of an eye.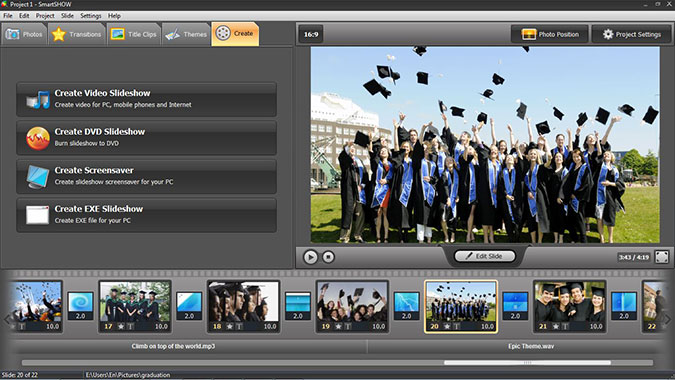 If you are not in a hurry, check out a collection of cool slideshow decoration themes, a pack of title slide templates, over a hundred of transitions and special effects for a splendid slideshow. Of course you can edit the slides – change the background, add text captions and so on.
The app supports export to 30+ video formats, including Full-HD for beast quality on a huge plasma-TV. You can make a screensaver, an EXE-slideshow or a video for YouTube. In addition, SmartSHOW allows burning DVD disсs which can become sweet gifts for classmates, teachers and family.
Hit the 'Play' button to enjoy an entertaining graduation slideshow
made in Smart Slideshow Maker!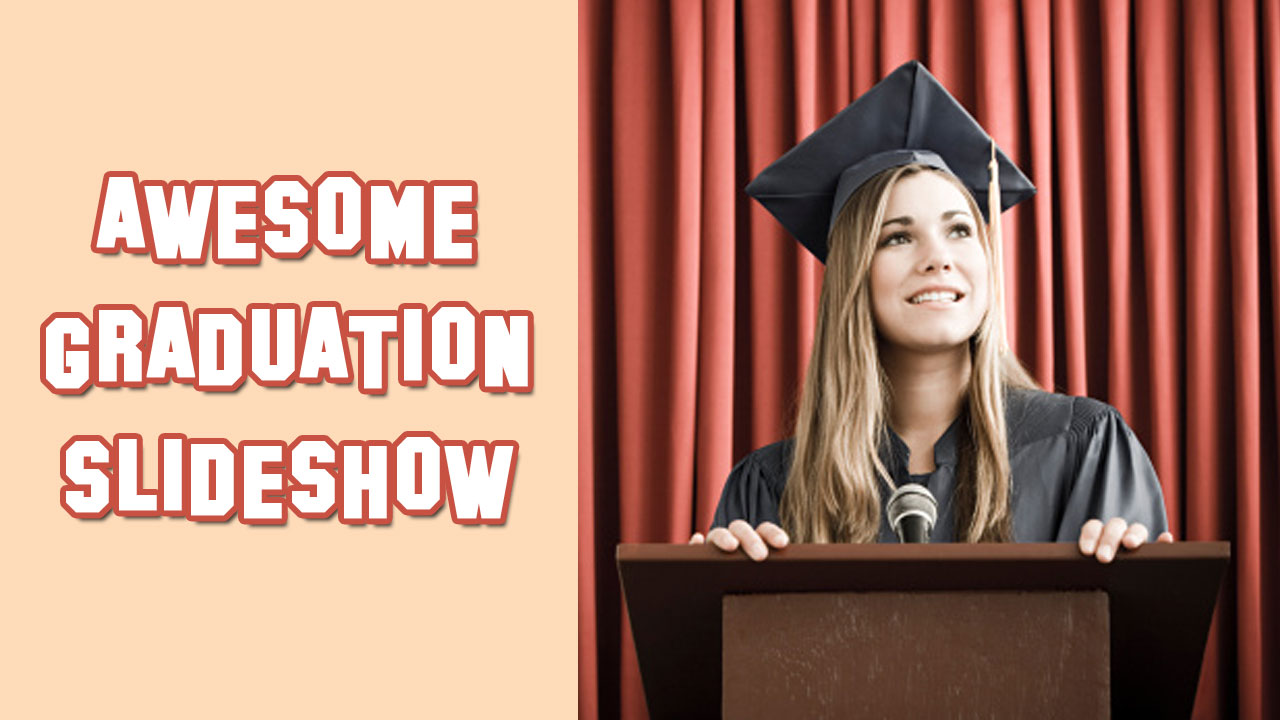 All in all, SmartSHOW is a convenient app for creating a stunning graduation slideshow with music and special effects. So get it now to make a project that will amaze everyone at your graduation party!