The Secrets of Slideshow Effects: Artistic Effects
How to Turn a Usual Slideshow into a Stunning Performance
Who doesn't like to watch photos? We all do. Pictures from the family album, photos of the last vacation, wedding photos are top candidates for that. However, watching digital photos is not always an exciting show. For the person who took the photos, each picture has its own mood and ambience, but the others may not be as interested in watching and even get bored!
So, how to make a common photo slideshow an exciting, intriguing and surprising jaw-dropper? The answer is: use photo effects! Eye catching, relevant artistic effects can drastically change the entire impression the slideshow makes. Play of light, lingering shadows and piquant vignettes add to the look and feel of every slide and strongly enliven the whole slideshow. Special effects were previously available in professional graphical packages only. Here's the great news: they now come as standard in such software as SmartSHOW - Smart Slideshow Maker. This tool allows you to easily create wonderful slideshows with spectacular effects. (Learn more about SmartSHOW).
Add Some Zest to a Slideshow
In SmartSHOW, all slideshow effects are available in the Edit Slide window. Double-click a slide to open the slide editor. In the right part of the window you should see the Effects tab containing motion effects including pan, zoom and rotation as well as various color effects such as brightness, contrast, hue and saturation, and special artistic effects like sepia (old photo style), black & white, mosaic, and vignettes.
To apply any of the available effects to the slide, simply turn the desired effect on in the list and adjust its settings below. Click the Play button in the preview panel to see how the result will look. Don't neglect the fading option: it makes the chosen artistic effect to gradually fade in or out. This feature is an absolute gem if you want to add some charm to the slideshow! Imagine an old film picture that slowly regains its color and contrast. Or think of a photo slowly disappearing in the darkness emphasizing the importance of the moment it displays. Vignettes are also well chord with fade-ins.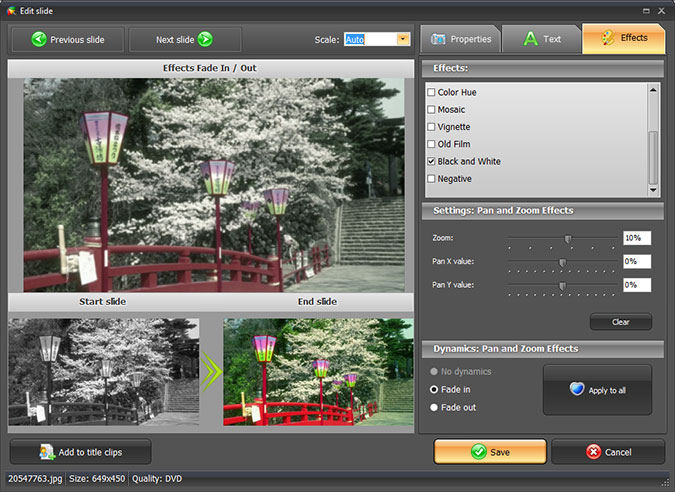 SmartSHOW also allows you to apply several effects to the same slide. This can produce great results! For instance, lighting effects with the fade-in option perfectly combine with black & white fade-outs.
Turn the Imagination On!
Artistic effects applied to a slideshow pursue several goals: they contribute to the showiness of your creation, they put in dynamics that prevents spectators from becoming bored, but most importantly they can (and should!) express the inner idea of the slideshow. There are many tricks movie directors use to put focus on certain details or set the spirit using color effects only. Why not borrow some? For example, a scene in sepia slowly restoring its brightness and hue is subconsciously associated with rejuvenation, creating something new, and thus it is a great choice for a wedding slideshow. A dissolving vignette and slightly increased brightness of the final image can depict dreams coming true – nice option for romantic or birthday greeting cards. While highly saturated and contrast photos fading out to the normal color properties well illustrate crazy emotions, sports or parties.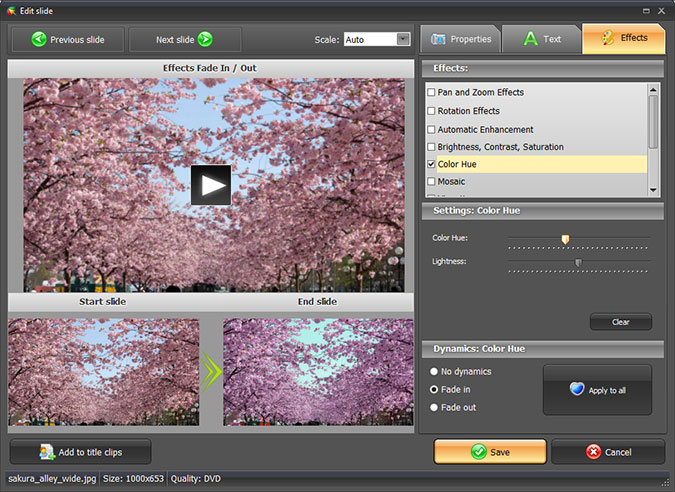 Take a look at our Japan photo movie. This sample shows how a bit of imagination in cooperation with well placed lighting effects and faders turns the entire impression from the slideshow upside down!
Just Don't Forget to Save
Creating a first-class slideshow with SmartSHOW takes little. You don't need specific knowledge, nor are you required to have any designer skills. Simply add photos, configure transitions and add a handful of eye-catching effects. Don't forget that you can preview each effect in the slide editor window, and apply the same effect to all slides in the project if needed. Another important thing to keep in mind is the duration of a slide. Just like with slideshow transitions, slide duration also influences the final quality. We recommend letting each slide stay on the screen for 5 seconds at a minimum for smooth and fluent effects. However, depending on your purposes you may want to increase or decrease this value.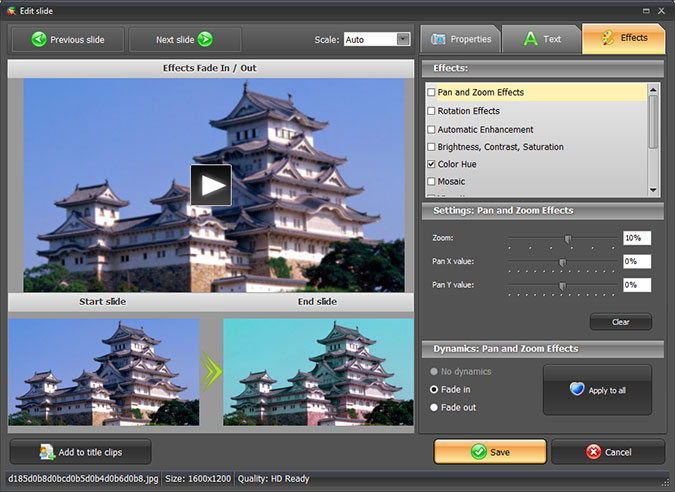 A vivid, dynamic slideshow decorated with nice artistic effects is a much better option than a primitive load of straight photographs. Amaze your friends by creating one yourself. Just don't forget to save it on DVD to play on your full-HD plasma, or make a Web-optimized video to share it on Facebook!