Animated Slideshow Secrets & Tricks
Create the Slideshow of Your Dream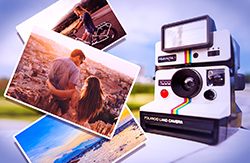 You're addicted to photography and like to show your works. As usual, you start to create a slideshow: you carefully select the photos, add a nice music track and some transitions. But in the end, it looks like other slideshows: lifeless, boring, with no zest. When you show it to your friends, they switch to something else while watching, again.
If this sad story is all about you, then don't give up yet. Want to create a mind-blowing animated slideshow? We will tell you how to do that!
There are many ideas for making an excellent slideshow. However, when it comes to the technical part, you will need versatile software that will allow you to bring these ideas to life. Not a digital-savvy? Try an animated slideshow maker that suits both novices and skilled editors. We used SmartSHOW to create a mini slideshow project, showing different tips and tricks for making a gorgeous video.
Watch this video to learn the secrets of creating a stunning slideshow that will amaze your viewers!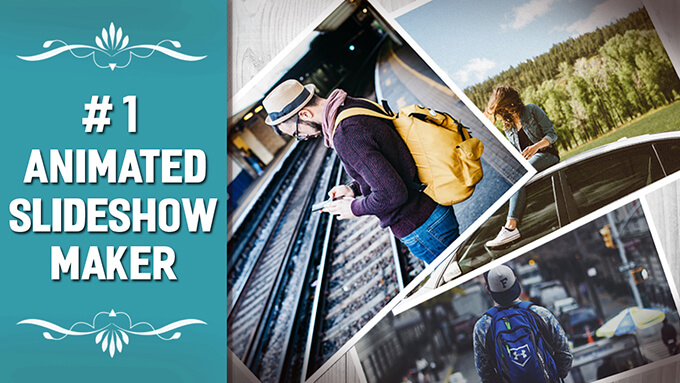 Liked the video? Want to master these tricks? Now, we will unravel all the mysteries:
1. Use 3D Animations
It is the key thing for an animated slideshow presentation. When you have dozens of photos, you need to display them in the best way to make the viewer remember every picture. The animations will help you catch the person's attention and keep them excited till the end. In Animation > 3D effects you will find an extensive collection of animations that you can use in your video.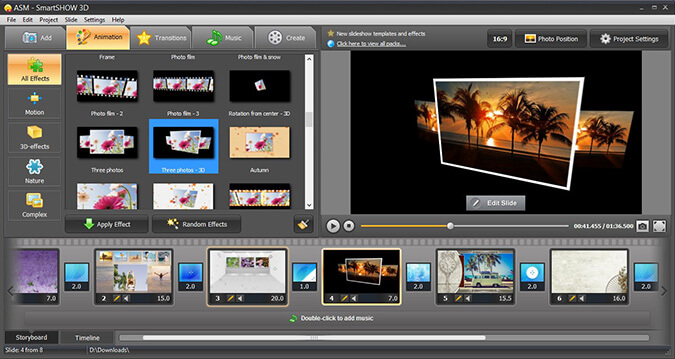 2. Experiment with Photo Filters
Photo filters allow you to edit a picture in a few clicks: adjust brightness, contrast, hue and other parameters. Not only can you apply filters to single photos, but also make various animations to achieve a certain effect. For example, when you create an animated slideshow, use Old Film or Vignette to make the effect appear gradually with time. This will give your photo a soft vintage look that will certainly catch the viewer's eye.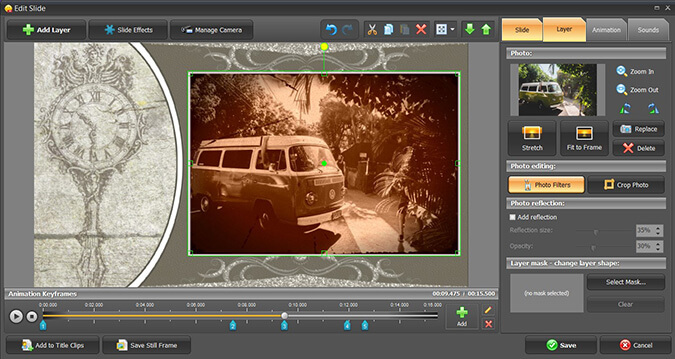 3. Make Photo & Video Collages
With an animated slideshow maker you will be able to create collages from both images and videos. The best way is to make collages from one type of photos (landscapes, portraits, etc) and mix them with video backgrounds. To create a collage, just choose one from the Collages tab and add pictures.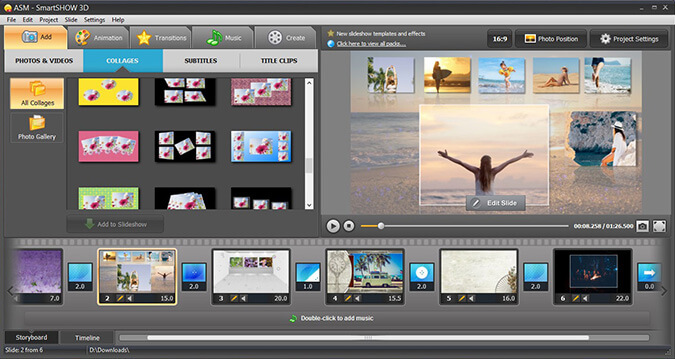 4. Place Footages in the Background
Nowadays footages or so-called video backgrounds have become very popular. It's not surprising because they can easily immerse the viewer into a story that unravels on the slide. What's more, the footages will for sure make your slideshow more dynamic. When you start to create an animated slideshow, try to choose a footage that corresponds to the theme of the whole presentation. To use a footage, click Add Layer > Video and send this layer backward.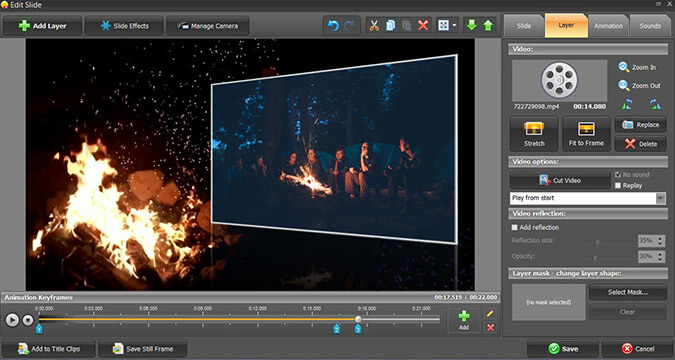 5. Add Realistic Slide Effects - Snow, Fire, Sparkles etc.
Use realistic slide effects to convey the atmosphere of your animated slideshow video. Add falling snow, dancing leaves, burning fire or other effects from a vast collection to make your viewers feel what's happening on the screen. Go to Slide Effects in the slide editor to add an effect. Choose the type that suits your idea and adjust the parameters to get the best result.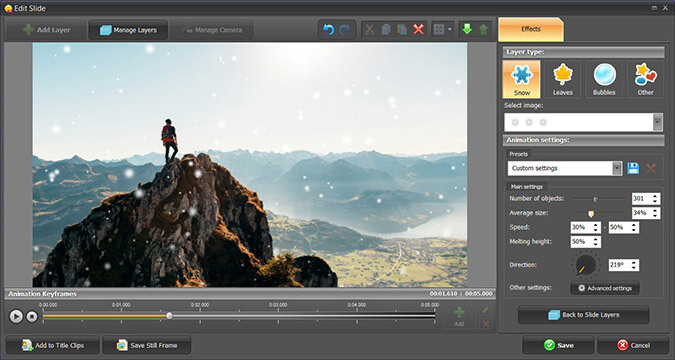 6. Don't Forget about GIF Files
Add GIF files to your project to make it stand out among other slideshows. In order to add a GIF file, simply open the slide editor and hit Add > GIF File. With an animated presentation maker, you can manage and animate GIF files just like any other object. For instance, in a travel project, make an animated car move across the slide, stopping at the places that you've visited. Then create a pop out animation for the photos on this slide – it'll be a nice touch.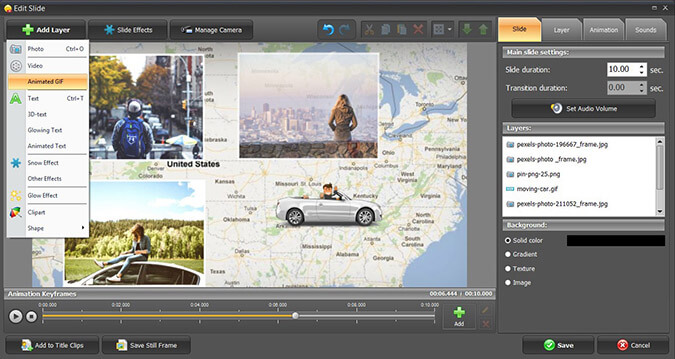 And that's not all! We have only scratched the surface: there are many more cool tricks that you can discover and use in your videos. And for sure, when your slideshow is done, you will want to post and share the work on the Internet. In this case, don't miss the guide on how to create slideshow for a website. It will certainly help you make a perfect quality video for YouTube, Vimeo or your personal blog.
Now, use our tips in practice and create animated videos and presentations!