Love Story Slideshow
A Perfect Gift of Love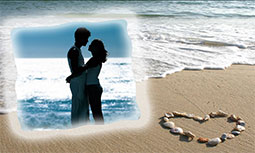 The wedding day as well as anniversary are some of the lightest and most glorious days in our life. These days are meant to bring happiness! No wonder many of us do our best to surprise our loved ones, to make them feel like that happy day lasts forever. While flowers and presents are welcome, what's really important, especially for women, is care and tenderness, true emotions and expressed feelings.
Creating a Love Story Slideshow
Love story slideshow is absolutely the way to show your important one how deep your love is. Step one here is high quality love story photos taken by you or by a paid professional. And while you can order creating a slideshow to this professional too, you may prefer to put some soul into the final result and compose your romantic slideshow yourself. Slideshow making software may not be a replacement for specialized photo studio services, but it is nevertheless of great help both for beginners and photo pros.
Want to turn the photos of your couple into a romantic photo story? Watch this video guide and learn how to make a lovely slideshow gift with SmartSHOW software!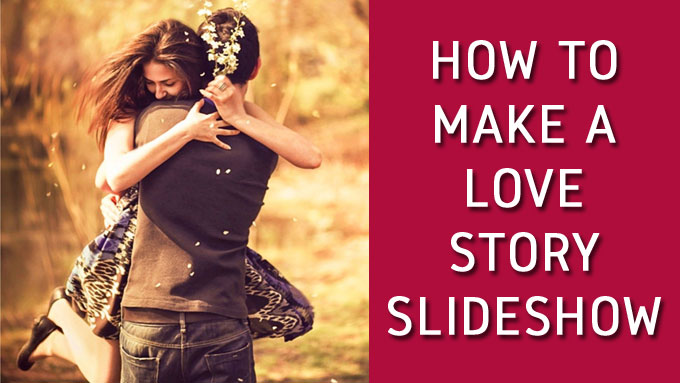 Make Your Love Story Special with Special Effects
SmartSHOW is just the right instrument to turn your most sincere emotions and a few dozens of photos into a breathtaking love story - it is simple, powerful and genuinely easy-to-use. Hundreds of slideshow transition effects offered by the program give you all the freedom you need to tell the story of your love. Various image transformation effects including pan & zoom, rotations, color effects will point out some vital elements of the plot.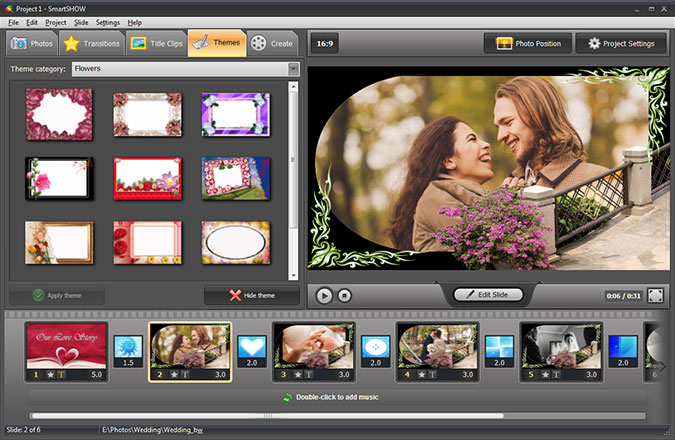 Matching MP3 music playing in the background finishes the atmosphere and gives your love story slideshow complete look. Note that you can use different tracks for different parts of the slideshow. Accompany a romantic scene with lovely songs, or use dynamic and energy music to transmit passion. Don't forget that you can use fade-in and fade-out effects to achieve smoother transitions between the songs and scenes of the slideshow.
Amaze Your Loved One with a DVD Slideshow Album
SmartSHOW has a huge collection of background themes made by professional designers – choose the best theme to match the occasion. You know, wedding celebration and a large screen DVD player require one approach, whereas a romantic slideshow "just for two" played on a laptop requires an absolutely different mood and background. By the way, SmartSHOW allows to record a love story album on DVD in HD quality, which makes this software a perfect choice for professional wedding photographers too. They can save a bunch of time on preparing love story slideshows for their clients thanks to the ease of the tool and its vast capabilities.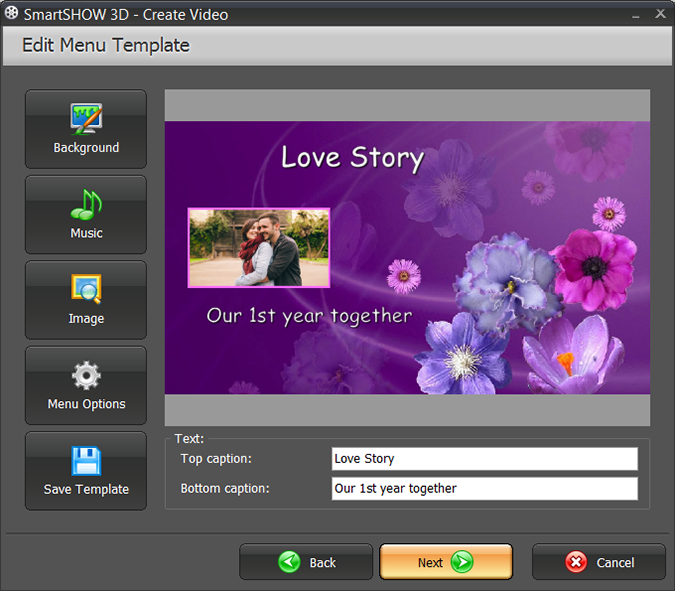 "Words don't come easy", as F. R. David once sang. Luckily, words are not the only way for you to say important things to the one you love. A slideshow composed of your love story photos saves the day when words fail. SmartSHOW will help you embody your deepest emotions into a touching slideshow.