How to Make a Slideshow Video with Music
Take Full Advantage of Cutting-Edge Slideshow Software
What is the best way to cherish your most precious memories? Certainly, they do not deserve to end their days pinned to the wall or shoved into an old photo album. Advanced computer technologies welcome you to a digital world where you can effortlessly turn still images into a dynamic slideshow. While creating a thrilling slideshow and cramming it with various eye-popping effects, try not to be complacent and think about other ways to boost your presentation.
Why not to spice up your slideshow with a favorite song or some catchy tune? Surely, the right music will help to set the mood. The epoch of silent movies has become a thing of the past, our life is brimming with delightful sounds and fascinating melodies. Smart slideshow maker, which is now available for free download, unmutes your slideshow movie. This guide will show you how to put this software to good use and how to make a slideshow video with music.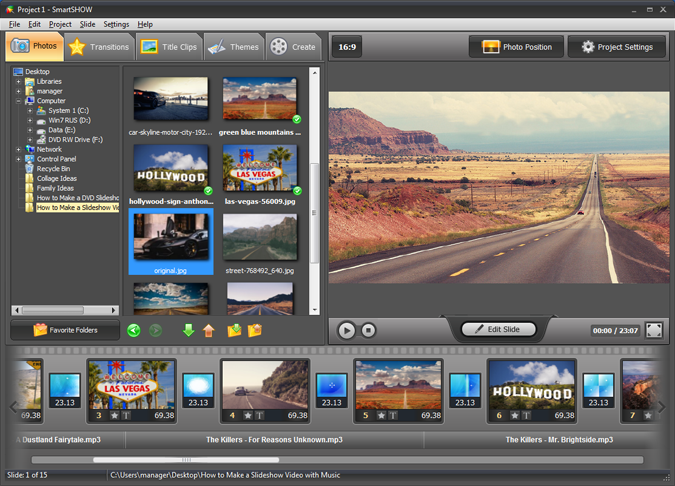 Easy Steps to Create a Musical Accompaniment
So, how to get things rolling? Firstly, create a new project, give it a suitable title and get down to work. Import the photos from your computer and arrange them on the Storyboard applying elaborate Themes and stunning Transitions. Now you know how to make a slideshow video, so let's pass on to the most thrilling part – the soundtrack.
1. Double-click on the Music bar located under the Storyboard to add or edit your music files, with .mp3, .wma, .wav file extensions being supported. Select your background music wisely, so it will set the perfect mood. You can always use several tracks, though, and change the slideshow pace.
2. Click on the Music bar again and open the Music Options menu. In order to optimize your music excerpt to the slideshow duration, cut the track or sync its total time with the display of each slide.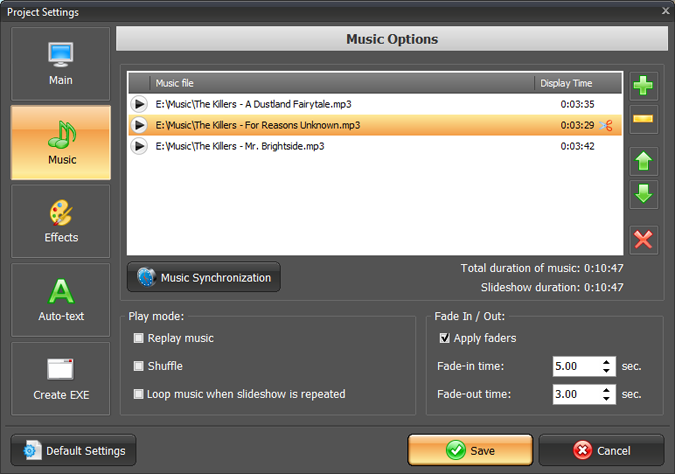 3. Dare to become an amateur composer. Adjust some play modes, apply faders and shuffle modifiers, replay music or loop it when the slideshow is repeated.
4. Add a finishing touch and switch to the Fullscreen Preview in the Main Menu or the corresponding image under the slide display to make sure that you have nailed it.
5. When all is said and done, move to the Create tab to make a slideshow video. The program will offer you a great range of video types, suitable for PC, HD TV, smartphones or video players, websites and social networks. Then all you have to do is to wait until the program converts it for you.
Brighten Up Your Life and Business
With Smart Slideshow Maker you have vast possibilities to make a slideshow for website or various devices, for home or professional use. It is user-friendly and manageable for both aces and amateurs. If you learn to make a slideshow video you will surely impress your relatives and friends with a gripping multimedia album or set forward your business ideas via a professional quality video presentation.
Bring in some creativity into your work and life. Walk into the shoes of a real director!